Art Director & project lead: Lissy Evans
3D Design: James Smith & Nikita Goryainov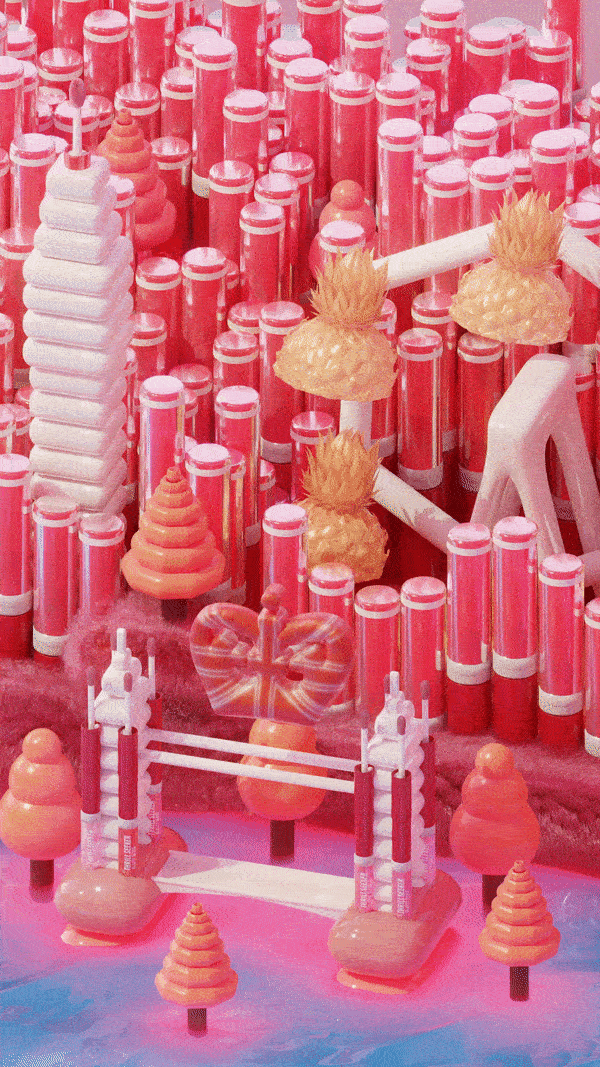 Rimmel wanted to create "an iconic moment in culture" for the launch of their first lipgloss in 5 years -

Glassy Gloss. 
This new glassy finish lipgloss has the same formula as Coty-owned Cover Girl's 'Yummy Gloss', which went viral on TikTok in the US and Canada. These fruity scented and 'tasty' lipglosses have been on trend since Dior Lip Oil, and NYX's 'Fat Oil', this is Rimmel's take on the nostalgic product. They are targeting a much younger audience - 16 to 24 yrs old. Rimmel wanted to 'reclaim London' as the location is iconic to their brand, and brand equity. It was our task to launch 'Glassy Gloss' with an iconic moment in culture, via a channel that can directly target our audience. Rimmel were channel agnostic, so we had free range on how we engaged this audience, and where.
This brief came as a result of the success of our last two Rimmel campaigns. Tommy understands the brand, how they need to communicate, and their audience. We are also seen as experts of social channels, and how best to use these. They have been particularly impressed by our creative capabilities, our understanding of how to deploy a campaign across channels.
As usual, I started by collating a load of visuals alongside my colleague LV regarding the aesthetic we felt worked well with this product. Due to the age of the target audience, I opted for a youthful almost toy-like aesthetic - with a bit focus on 3D inflatables and bright pink shades.

3D AR digital, futuristic, bubble gum, pastel colours, shiny-neon, super saturated colours with a refreshingly youthful vibe.
I pitched a selection of routes, the client's favourite being:

LDN Portal to the Glassy-verse
POV: You discover London's best kept secret. We cash in on the viral AR fake OOH videos all over socials, and open a portal to the world of Glassy Gloss on an iconic London street - further claiming the city as Rimmel's territory and core identity. The camera moves along a street before turning the corner into a tunnel. The space transforms; infinitely expanding as we move through it. Glossy bubbles inflate from the walls and float through the tunnel as the camera moves forwards. These burst to reveal gloss tubes, creating a 'reveal' moment. Inflatable text highlights the campaign line "BIG GLOSS ENERGY"
I also explored multiple locations to 'take-over' through AR, including Coal Drops yard, Battersea Power Station, Carnaby Street amongst others. We filled them with gloss, replaced architecture with gloss tubes and released bubbles into the air.

James

developed some incredible AR renders of the landmark takeover from my crude scamps.
However, due to the many 'fake out of home' videos circulating the internet we decided to go down a less 'real-world' route - and create our own CGI Glassy-verse.
Inspired by current 3D design trends, we would like to create a truly eye catching glassy verse city, with a focus on London landmarks. 
We took the gloss elements, product tubes, fruit and bubbles and run waterfalls of gloss through the 'streets' of London in a playful slightly quirky Y2K style to appeal to our target audience. 
We paired these with union jacks, crowns and other instantly recognisable Rimmel items to truly reclaim London in a fresh and exciting way.
The colours are showcase the full range of Glassy Gloss shades, from the subtle pastel of Coco Suga right through to the deliciously deep shade of Pink to the berry.
Our wonderful 3D designer

Nikita

created some beautiful city scapes to bring the Glassyverse to life.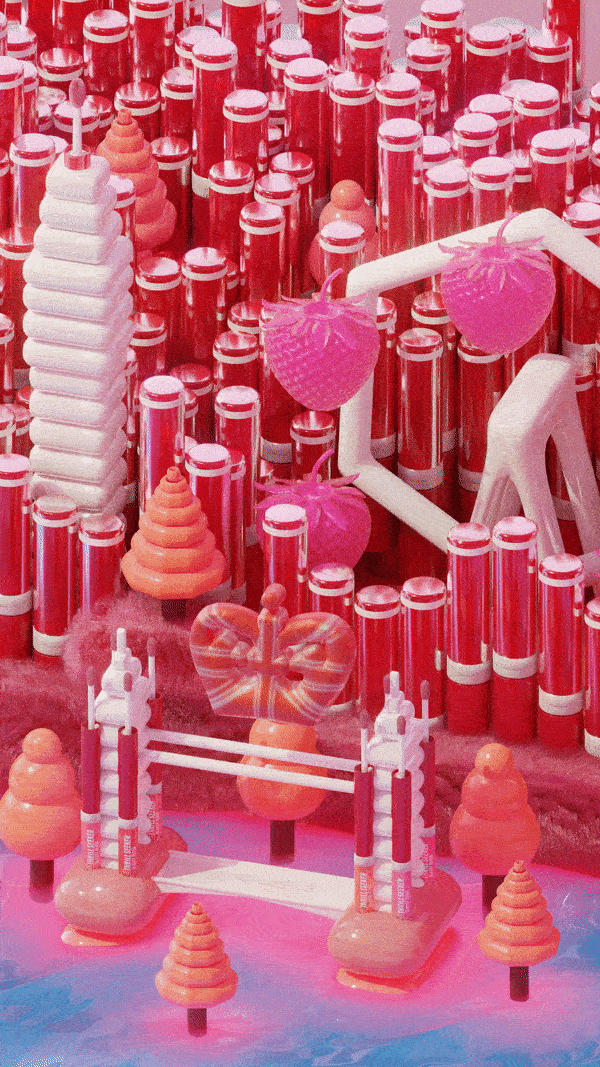 Which led to the final delivery of one main asset, plus two adapts to showcase the different flavours.


See for yourself here